Ponyville Mysteries #4
Hey, hold on! "The End in Friend" was all about how Rarity and Rainbow had nothing in common, but then this comic follows up on "Applejack's 'Day' Off" by showing them in the spa together!
Anyway, the spa is getting special water from the Everfree Forest, but their source is being diverted by a strange series of pipes. It looks like something the Flim Flim Brothers would do, but the Cutie Mark Crusaders don't realize this until they actually show up later.
Instead, they see the pipes go into the Apple Farm then go underground, which leads to them and the rest of the town suspecting the Apple Family is stealing water to beat the drought (caused by a bad flu going around Cloudsdale that prevents rain). But then Flim and Flam start hawking a miraculous fruit that takes almost no water to grow, and of course they're the ones behind the water theft. The CMC confront them and they run away.
Like usual, the issue is generally pleasant enough, and the art is cute, but there isn't much to actually take out of the story, whether through the mystery or through characterization.
Silver Quill's review
points out that this is the first crime down out of malice in this series. And yeah, I forgot to bring up the fact that the Crusaders didn't bother to turn off the pump and unblock the spa's water source.
Oh, and
check out this typo
.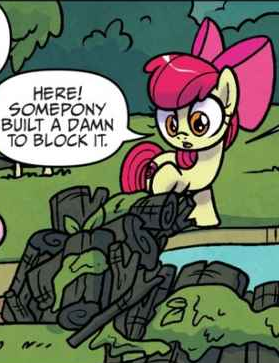 Only one issue of this series left, and unless the last one knocks it out of the park, this will definitely be the weakest MLP comic series.
~~~
In comic news,
Andy Price put up a preview page of issue #71
, and it looks great! Features the first comic appearance of the Student Six.