Over at ResetEra, the Pony community there has been enjoying Tangled: the Series a lot, so I figured I should make a thread for it here. Largely going to copypaste my season 2 OT from ResetEra, with some modifications.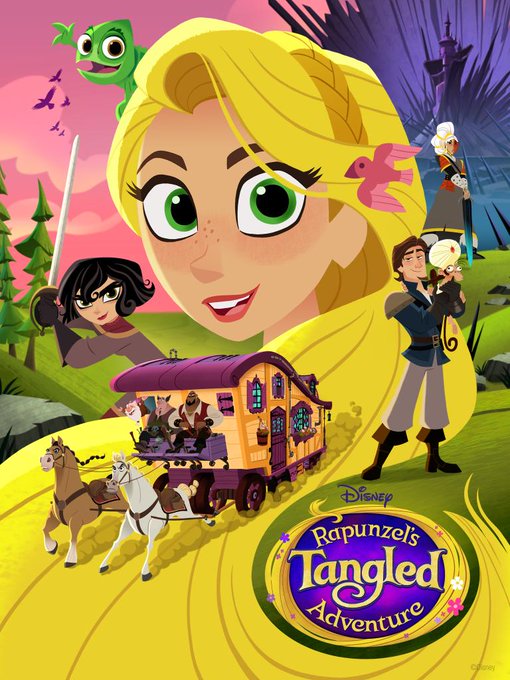 Technically, the series changed its name to Rapunzel's Tangled Adventure with season 2. I'll just keep calling it Tangled: the Series ¯\_(ツ)_/¯
Airs Sunday 9 AM ET on Disney Channel, starting June 24, 2018
Or watch it at midnight on
DisneyGo
Tangled: the Series follows after the events of the movie but before the wedding special, with every lead movie actor reprising their roles and much of the movie production crew returning, including Alan Menken handling the songs.
Months after reuniting with her birth parents, Rapunzel comes across mysterious stone spikes that restore her magical hair but start wreaking havoc in Corona. She journeys outside the kingdom with her boyfriend and former thief Eugene (AKA Flynn), her lady-in-waiting and guard Cassandra, and animal friends Pascal and Maximus to unravel the mystery of these black rocks.
Season one started out as a charming but ultimately unremarkable series, but then things took a hard turn in the mid-season special "Queen for a Day" and it became quite good, going in directions you wouldn't expect from a Disney Princess show.
Previously
, I provided a recommended episode guide, but enough people liked certain episodes I didn't include, and enough small details from those other episodes come up later, that there isn't much of a point to following it. Still, it's there if you want it.
Note that from this point on, the thread will freely discuss season one spoilers.
PREVIOUSLY ON TANGLED: THE SERIES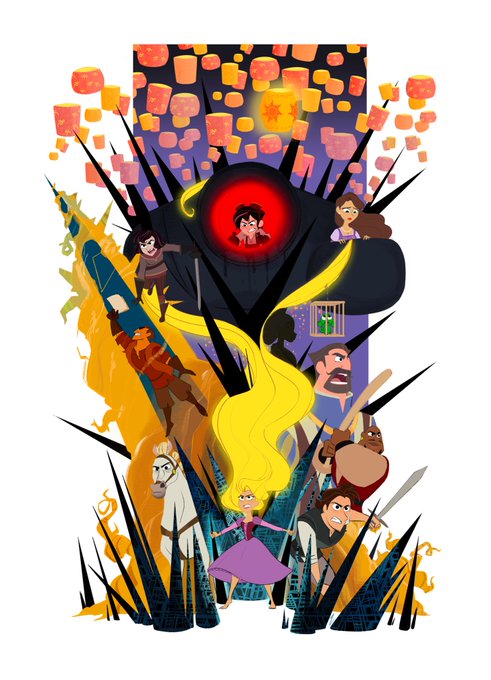 (
art by amber leigh
)
Through a series of unfortunate circumstances where everyone made mistakes but no one was really at fault, Varian the alchemist found his father sealed in a crystal, and despite her promise to help, Rapunzel didn't. With his attempts to free his father failing, Varian grew mad with vengeance and attacked the royal family.
Rapunzel discovered her ability to control the mysterious stone spikes and used them to defeat Varian's army of giant robots. He's now in jail, but his father is no closer to being freed and he hasn't given up on his revenge.
(
source
)
Rapunzel's parents had previously kept her restricted to inside the walls of Corona, but in a way, that was still locking her up in a tower. Understanding that she shouldn't be restrained, they allow her to discover her destiny beyond the kingdom. When it comes time for her to return, the lanterns will still be there to guide her way.
(
source
)
What exactly is the connection between the sundrop and the black rocks? Who is that mysterious stranger that cut an indestructible rock in half? What role does the ancient sorcerer Zamfiri play in all this? Now that Rapunzel has achieved Super Princess, will she discover a level even further beyond? Find out in season two!
~~~
And some miscellaneous cute GIFs. Mainly of Rapunzel.
GIF collections. Context: Eugene has been captured by a mob daughter named Stalyon and is being forced to marry her
Jealous Rapunzel, before sneaking into the wedding
Jealous Rapunzel, after sneaking in
And from the newest episode,
...
(
source
)